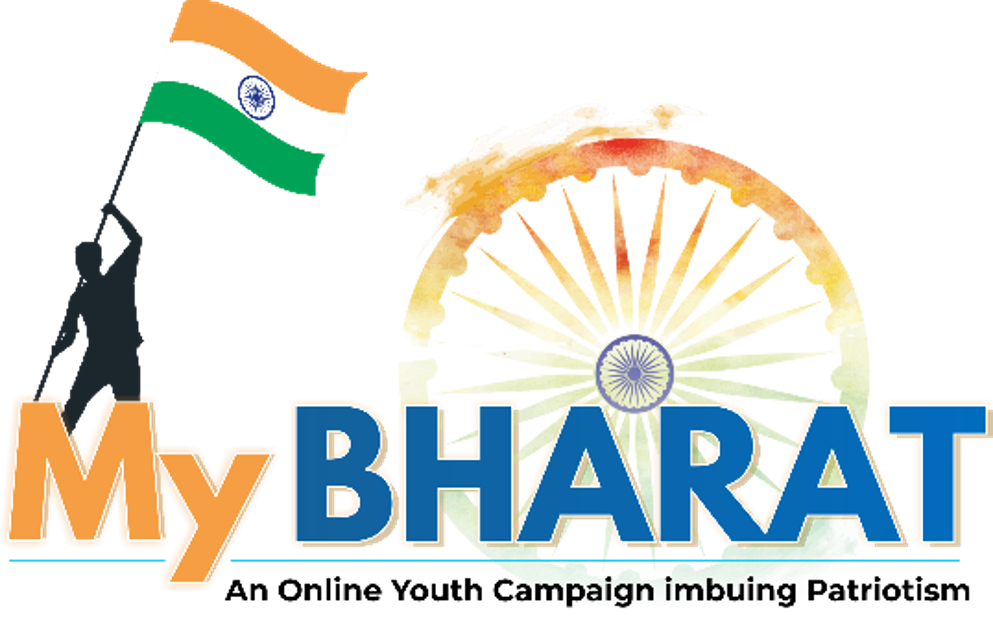 The primary objective of Disha Bharat is character building of students in the backdrop of country and culture. Our programs revolve around the theme – "Know Your Self, Know Your Country and Know Your Culture".
To instil the spirit of patriotism in the individuals, specifically in the students, Disha Bharat had organized #MyBharat – a state-wide Online Youth Campaign from August 1st to 15th, 2020 on the occasion of 74th Independence Day!
The campaign had two aspects, namely
Students Program from 11 AM to 12 noon

Lecture Series by eminent speakers from 6 to 7 PM
Students Program
The Students Program had following ten activities, six on the regular basis and four on special occasions.
Story Telling – 15 days, 15 freedom fighters

Speech – on the given topics

Poetry Writing and Recitation – on the given topics

Mono Acting – on the given topics

Patriotic Song

Patriotic Dance
The program also had four more special activities to add make the session more enriching:
Students from schools and colleges across Karnataka enthusiastically participated, exhibited their talents and gave the audience a visual treat for 15 days. The session always ended with a Disha Volunteer speaking about an Unsung Hero, as a tribute to the freedom fighters whose names are not taken much, but nevertheless, have sacrificed their lives for the freedom.
In addition, the Students' program also had some special moments on specific days when great achievers and celebrities joined and interacted with the students by taking a brief Q & A session.
Padmabushan Dr. K. Radhakrishnan, Space Scientist and Former ISRO Chairman inspired the students by his presence on 8th August, while Smt. D. Roopa Moudgil, IPS motivated the students on 14th August and youth actress Pranitha Subhash interacted with the students on 15th August, 2020.
The program was made even more interesting and enriching as it included Quiz questions to engage the viewers, inspiring Video Clippings on August 15th ended with a student playing the 'Vande mataramon' on the violin.
Brief Summary Report of the Students Program
| | |
| --- | --- |
| No. of days | 15 |
| No. of students participated | 115 |
| Total number of freedom fighters highlighted | 15 |
| Total number of unsung heroes covered | 14 |
| Total number of students' activities | 10 |
| Participation from Bangalore | 96 |
| Participantion from outside Bangalore | 19 |
| No. of school programs | 48 |
| No. of college programs | 67 |
The students' program was for the students and by the students and was in align with our vison
– Transforming Youth to Transforming Nation!
Evening Lecture Series
In order to appreciate the independence that we are enjoying today, learning about the saga of freedom struggle leading to a collective retrospection of the past is very critical.
The one-hour lecture series in the evening saw 15 eminent speakers including Union Minister Smt. Nirmala Sitaraman, Smt. Smriti Irani and Sri. Ram Madhav as well, taking the audience on a journey from the first war of independence to India today and tomorrow as well.
The viewers were enlightened about the role of revolutionaries, social reformers, women in the freedom movement followed by India's progress in various fields in the post-independence era and futuristic topics like India's march towards 'Vishwaguru'.
Social Media Promotions and Endorsements
The campaign gained momentum because of a month-long vigorous promotion through social media. Posters, videos, theme song and flyers to support the two programs provided the required awareness and impetus that paved way for a successful campaign.
#MyBharat campaign was also blessed and endorsed by many great personalities hailing from various fields like education, army, police, spiritual gurus, politics, medicine and many other fields including honorable Karnataka Chief Minister Sri. Yediyurappa. Disha Bharat felt truly privileged and honoured by their participation and the support extended by such renowned personalities.
Overall, the #MyBharat Campaign provided a lifetime opportunity to know more about India's freedom struggle and understand our role in the march towards Vishwaguru Bharat.
The links for the Students Activities and Lecture Series are given below:
Links for Students Activities
Links for Lecture Series
Day 1

August 1, 2020

Sri. Chakravarthy Sulibele on 1857: First War of Indian Independence
Day-2

August 2, 2020

Sri Adarsha Gokhale on Role of
Revolutionaries in Freedom Movementhttps://youtu.be/AYVtmMBm6b0
Day-3

August 3, 2020

Sri Vikram Sampath on Veer Savarkar Life and Legacy of a Great Revolutionary
Day-4

August 4, 2020

Sri Rajat Sethi on Social Agitations During Freedom Movement
Day-5

August 5, 2020

Sri V Nagaraj on Rise of Nationalism during Freedom Movement.

Day-6

August 6, 2020

Dr M Jayaprakash on Social Reforms and the Indian Movement of Independence
Day-7

August 7, 2020

Dr VB Arathi on Women Participation in Freedom Movement
Day-8
Dr K RadhakrishnanAugust 8, 2020.https://youtu.be/PRBJZu-omTA
Sri Ram Madhav on A Tragic Story of Partition 1947.

Day-9

August 9, 2020.

Sri Sanjeev Sanyal on Independent India Democratic – Sovereign and Republic.
Day-10

August 10, 2020.

Dr Anand Ranganathan on Educational Reforms in Post-Independent India.
Day-11

August 11, 2020.

Sri J Nandakumar on Idea of Bharat Resurgent India Journey Since 1947 to 2020.
Day-12

August 12, 2020.

Smt Nirmala Sitharaman on India Today and Tomorrow.
Day-13

August 13, 2020.

Sri Ravikumar Iyer on Global Scenario: India and the World.

D Roopa Moudgil, IPS.

Day-14

August 14, 2020.

Smt Smriti Irani on New India Marching Towards 'Vishwaguru'
Pranitha Subhash

Day-15

August 15, 2020.

Sri Tejasvi Surya on MyBHARAT Special Lecture on 74th Independence Day.