We are very happy to share the report of the 156th Vivekananda Jayanthi conducted by Disha.
Swami Vivekananda, one of the greatest visionaries of the world, had great faith in channelizing the youth power towards nation building. His electrifying words has been motivating millions and millions of people towards serving the nation and leading a life of fulfillment.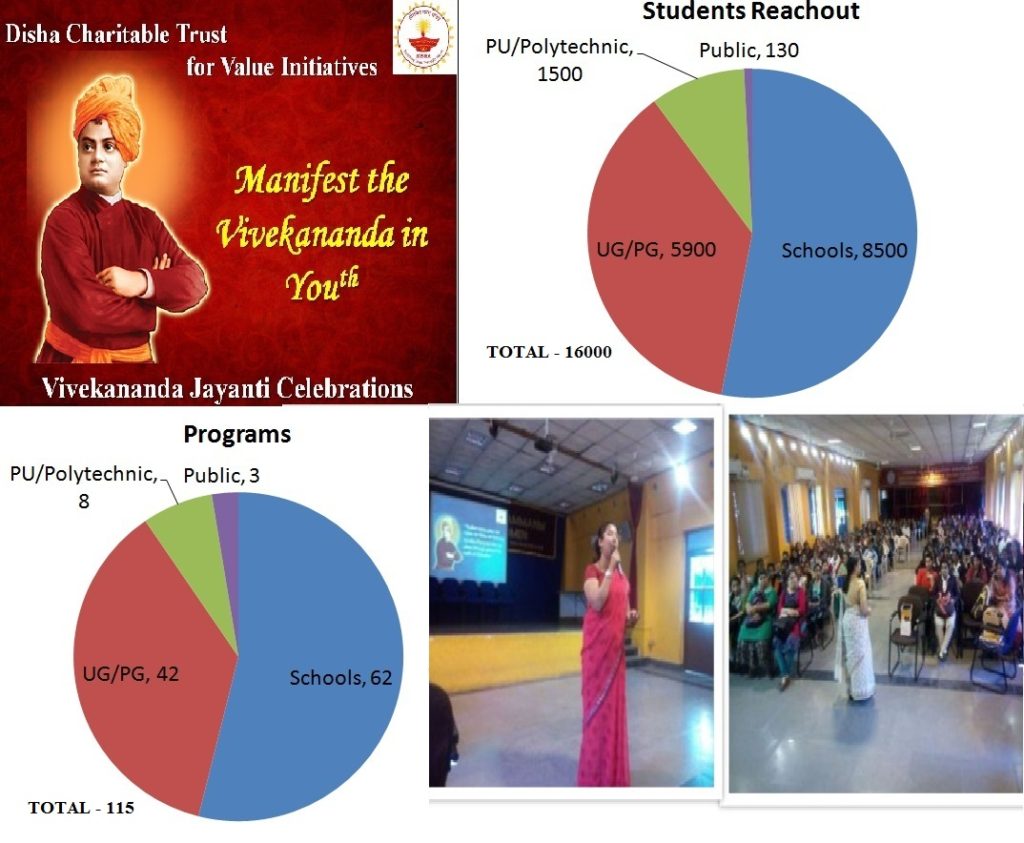 Since 2008, Disha is conducting Swami Vivekananda Jayanti to spread the message of Swamiji to various institutions through inter collegiate competitions and sessions.
This being the 11th year, Disha celebrated Vivekananda Jayanti in a unique way reaching to a large number of youth. Two important features are –
· One-hour Interactive Sessions on "Manifest the Vivekananda in YOUth"
· Highlighting the 125thanniversary of Swamiji's speech in Chicago
Our programs were unique in both its approach and the message. First half of session included a talk on anecdotes from the life of Swami Vivekananda i.e. blemish less character, patriotic fervor, cultural ambassador and propagator of Seva and the second half was dedicated to a video interaction which focused on how present day youth can imbibe the various aspects of Swami Vivekananda mentioned above.
Disha, with a small but dedicated team, in a span of 25 days, conducted 115 sessions reaching 94 institutions taking the message of Swami Vivekananda to around 16,000 students. We reached to the urban, semi-urban and rural areas. The audience were spread across various age groups starting from high school to post graduate students.
To view the photos of the events, click here
The session ended with a few questions to be pondered over, so as to to manifest Vivekananda in them –
•      Do you wish to have a blemish less character to become a quality leader?
•      Do you wish to have that nationalistic spirit to make this nation the super power?
•      Do you wish to know and have pride in the great heritage and culture of this nation?
•      Does your heart melts at the miseries of distressed, deprived, poor and needy?
| | | |
| --- | --- | --- |
| Institutions | No of Programs | No of Students |
| Schools | 62 | 8500 |
| UG and PG Colleges | 42 | 5900 |
| PU and Polytechnic | 8 | 1500 |
| Public | 3 | 130 |
| Total | 115 | 16,030 |
Overwhelming response from the management and the spark in the eyes of youth was a clear indication of the coming of Bharat of the future, the Vishwaguru.
| | |
| --- | --- |
| Schools | Colleges |
| Avin International School | Abalashrama |
| Baldwin public school | Ambedkar Institute of Technology |
| Bangalore International Public School | Bapuji Degree College |
| Basavanagudi girls high school | Bharatiya Samskruti Vidya Peetha |
| Basaveshwara School | BSV degree college, Chamarajpet |
| Bhagyavathi School | Indian Academy |
| Brahmagiri High School | KLE Degree College |
| Bright Horizon High School | MES Institute of Management |
| BRV English school | MLAAHL |
| DAV Public School | MLACW |
| Dayananda sagar English medium school | NSS Camp in Jnana Bharati |
| Ekalavya school | NSS Camp of Krishna College |
| EverGreen School | NSVK Degree College |
| Governent High School | PES Degree College |
| Governent Higher Primary School | PES Pharmany College |
| Government Girl's high school | PESIT |
| Government High school | Sadhana Degree College |
| Govt High School | Sheshadripuram College Kengeri |
| Govt Higher primary school | Sheshadripuram Commerce College, Magadi Rd |
| Govt Higher primary school | SJ Polytechnique college |
| Govt school, begur road | Sphoorthi Degree College |
| Govt school, Koodli | Sri Sai Degree College |
| Govt Tribal Ashrama School | Sri Vishwa Viveka PU and Degree college |
| Indian High School | The Golden Gleams College |
| Jai Hind International School | Vidya Vardhaka Degree College |
| Kanaka Vidya samaste | |
| Kannada sahitya parishat – boys hostel | PU Colleges |
| Mahatma high school | BMS PU College |
| Manasa School | Government PU College |
| Maruthi High School | Government PU girls college |
| Mookambika School | Krishna Iyer PU College |
| Moorarji desai Residential school | Samyuktha PU College |
| Mount Carmel English School | Sri Krishna PU College |
| Mount Everest school | Sri Sai PU College |
| National Convent | Yediyur Govt PU College |
| National Public School | |
| New Balaji Vikrama school | Public |
| Nivedita School | Patanjali Yoga Centers – 2 |
| Non-formal school | Satsanga center |
| Oxford school | |
| Priyadarshini school | |
| Purnapramathi Gurukula | |
| Rajarajeshwari School | |
| Rasana School | |
| Shambhavi High School | |
| Sharada school | |
| Sri Abhinava Ramananda High school | |
| Sri Madhvirashiva Sadbodana Samaste, Boys Hostel | |
| Sri Sai Public School | |
| St Geeorgia School | |
| St Philomena High School | |
| Timmarayaswamy School | |
| Tution Centre | |
| VET School | |
| Vijaya Primary and high school | |
| Vivekananda School | |
| Yadiyur govt high school | |