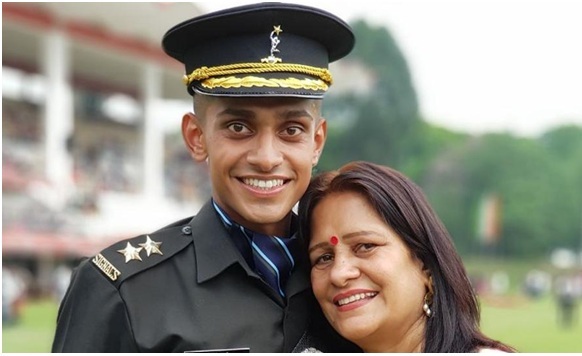 Living up to the name of his Border Security Force (BSF) martyr father, 22-year-old Kshitij Sharma of Kota has become an army officer after passing out from the Indian Military Academy (IMA).
Subhash Sharma, a deputy commandant in BSF, was killed in Jammu and Kashmir on April 16, 1996. He was conferred the President's Police Medal for gallantry (posthumously) in 1997.
However, his wife, Babita Sharma, made a decision to send their son to the Indian Army one day. "I never considered myself to be a widow. My husband was a martyr and they are immortal, so I decided to send my son to the Indian Army to keep his father's legacy alive," she said.
"After joining the NDA, Kshitij never looked back. He joined the IMA after passing out of NDA in 2017. After completing one year at IMA, Kshitij became a Lieutenant during the passing out parade at IMA, Dehradun, recently," said 50-year-old Babita.
Kshitij, who was adjudged 'Mr IMA' and Battalion Cadet Adjutant, also served as the captain of the basketball team at IMA.
"When he took the NDA exam, there were only 200 seats. There were 5 lakh aspirants, but he still managed to get AIR 13," said the proud mother, adding that the 22-year-old also became the Cadet Sergeant Major (CSM) at NDA.
Speaking about his motivation to join the army, Kshitij said, "I joined Indian army as my maternal grandfather used to tell me stories of my father's courage. He also told me stories of heroes such as Maharana Pratap, Subhash Chandra Bose and Bhagat Singh."
Kshitij will soon join his first posting at 1 Armed Signal Batallion at Patiala in Punjab.
We join the country in expressing our gratitude to this family, and wish Kshitij the very best for a bright future!