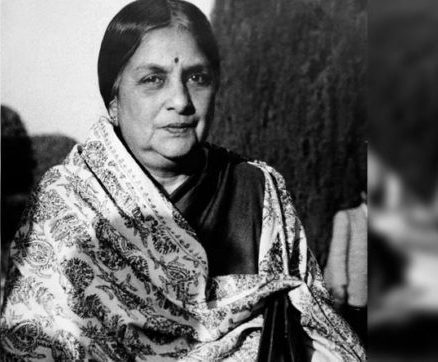 She was born in 1903 in Mangalore, Karnataka. Married at the tender age of 14 years, she became a widow after just two years; but didn't let that mess up her life. She went to London for her further education and on returning to India, she waded into the freedom struggle by joining the Indian National Congress in 1923.
Kamaladevi Chattopadhyay has many firsts to her credit.
She was the first woman freedom fighter arrested by the British during the Salt Satyagraha for violating the salt laws.
She was the first Indian woman who stood in an election for political office in 1926.
She founded the All India Women's Conference in 1927.
As early as 1929, she wrote a book about the rights of women in India
She was the founder of the Indian Cooperative Union that helped to settle the refugees from the North West Frontier Province who were displaced during the Partition.
She was greatly involved with promotion of art and craft and was instrumental in setting up Central Cottage Industries Emporia all over the country.
She started the Natya Institute of Kathak and Choreography in Bangalore in 1964.
She was also instrumental in starting the National School of Drama and head of the Sangeet Natak Akademi.
She set up and was the first chairperson of the All India Handicrafts Board.
In recognition of her talent and contributions, the Government of India awarded her the Padma Bhushan in 1955. She was awarded the Padma Vibhushan in 1987 and a year later, she left this earthly abode.
Freedom fighter, arts enthusiast, social activist, feminist and politician. A multi-faceted personality, Kamaladevi was a pioneer who worked for the upliftment of women. A woman far ahead of the times in which she lived, Kamaladevi  Chattopadhyay will continue to be an inspiration for us for many years to come.