What does SardarVallabh bhai Patel mean to all of us?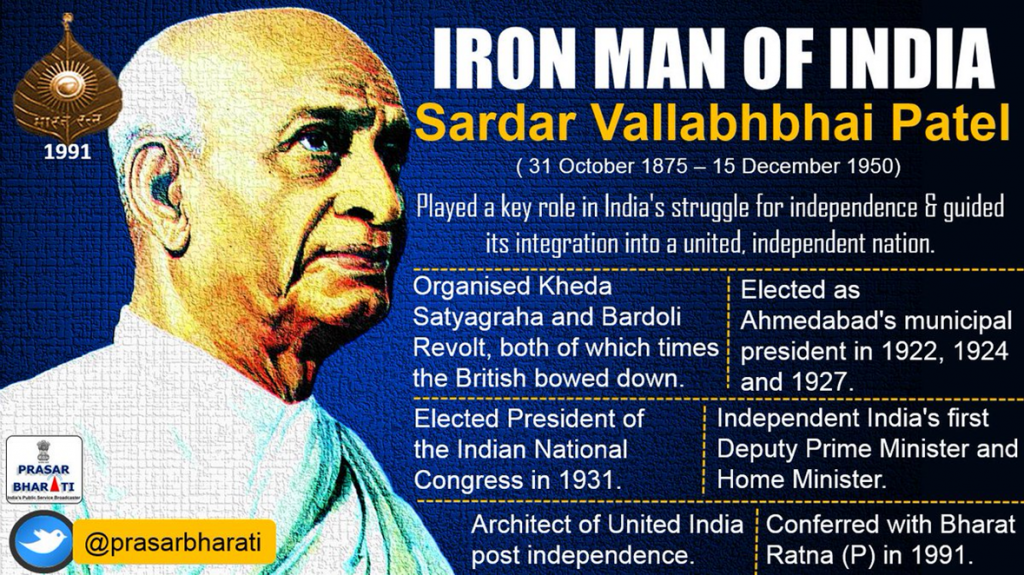 Back in 1947 India was divided into 2 nations, British had handed over all their directly controlled provinces and 565 self governed princely states had been freed from British suzerainty.
In such tumultuous times, Sardar displayed his true stature befitting the title of 'Iron Man of India'. He lobbied with all the princely monarchs, invoking their patriotism to accede to India willingly. 562 of them did so and with his tactical genius, he got the remaining 3 also to accede as a result of which we have our nation in her current form. As India's first Home Minister, he led one of the largest relief and rehabilitation effort in the world, for the millions of refugees pouring into India due to partition. And he acted swiftly and decisively in thwarting Pakistan's attack on Kashmir in 1948.
Sardar Patel formed the All India Administrative Services that forms the backbone of our nation's civil administration. He also initiated the grand reconstruction of Somnath Temple in Gujarat entirely using public donations.
For his sterling contributions, he was awarded the Bharat Ratna in 1991. His birthday, 31st October is celebrated as National Unity Day. This year, on this day, his 182 m tall Statue of Unity, near SardarSarovar dam in Gujarat,was dedicated to the nation. The statue is slender most at the base, which goes against the norms of what other tall statues have followed. This is the world's tallest statue, made entirely in India in a record time of 3 years and is a small tribute that a grateful nation can pay to this great son of our soil. some foreign media are reporting the Statue of Unity as a
mark of India's growing prosperity.