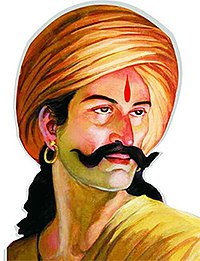 Sangolli Rayanna was a prominent warrior from Sangolli,Karnataka. Rayanna was born on 15 August 1798. He was the army chief of the Kingdom of Kittur ruled at the time by Rani Chennamma who was one of the first female rulers to rebel against British rule. Rayanna fought the British East India Company till his death.
Sangolli Rayanna also participated in the 1824 rebellion and was arrested by the British, who released him later. He continued to fight the British and wanted to install adopted son Shivalingappa as the ruler of Kittur. He mobilised local people and started a guerilla type war against the British. He and his "army" moved from place to place, burnt British offices, waylaid British troops and plundered treasuries. Most of his land was confiscated and what remained of it was heavily taxed. He taxed the landlords and built up an army from the masses. The British troops could not defeat him in open battle. Hence, by treachery, he was caught in April 1830 and tried by the British and sentenced to death. Shivalingappa, the boy who was supposed to be the new ruler, was also arrested by the British.
Rayanna was executed by hanging to death from a Banyan tree about 4 kilometers from Nandagad in Belgaum district on 26 January 1831.
A close associate of Rayanna planted a banyan sapling on his grave. Unlike the usual 6 foot grave, Rayanna's grave is 8 feet long because Rayanna was tall – more than 7 feet. The tree is fully grown and stands to this day.
His last words to the British were "You might hang me but remember, a Rayanna from every home of this country will be born until we get independence."
As Rayanna said, lakhs of freedom fighters were born and have sacrificed their life fighting with the British for independence that we celebrate by hoisting the tricolour.
For someone who lived and died for the country, it is fittingly symbolic that Rayanna's birth and death dates correspond to India's Independence Day and Republic Day!