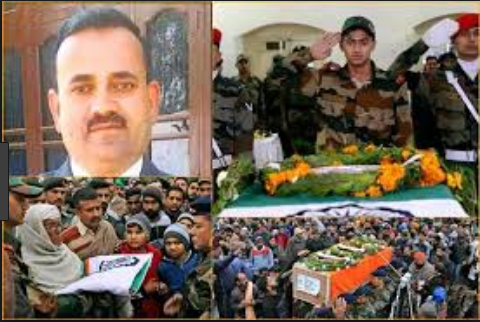 It is not even 4 months back that Hony Lt Madan Lal Choudhary laid down his life for the country. A true martyr, he died fighting terrorists, till his last breath not caring for his personal safety. Without even time to pick up his weapons, he fought the terrorists with his bare hands. Let us pay our homage to this great patriot.
Hony Lt Madan Lal Choudhary  hailed from Bakrak village in Kathua District of Jammu & Kashmir. He belonged to 1 JAK Li and was posted to the unit functioning under 36 Brigade of Jammu and Kashmir Light Infantry.
Sunjuwan Army Camp Attack : 10 February 2018
The Sunjuwan Army Camp, located along the Jammu-Lakhanpur bypass near Jammu, is a sprawling campus of over 100 acres. In the early morning hours of 10 Feb 2018, a group of heavily armed terrorists struck the camp of the 36 Brigade of Jammu and Kashmir Light Infantry at Sunjuwan.  
While the soldiers and their families were sleeping, the terrorists began firing indiscriminately. They had sneaked into the camp from the rear side of the base after a brief exchange of fire with the sentry on its periphery, to enter the family accommodation complex, and barged into the JCO family quarters.
The terrorists were fully armed with AK 47 rifles and hand grenades and were determined to cause maximum casualties. Hony Lt Madan Lal Choudary heard the gunshot sounds in the quarters and immediately rushed towards the door, where terrorists were present. Hony Lt Choudhary in a rare display of courage did not allow the terrorists to enter his house. He faced a group of heavily armed terrorists with bare hands, took scores of bullets on his chest and arms, yet ensured that the assailants could not inflict much harm on his family.
Hony Lt Madan Lal Choudhary was shot from a close range and was martyred but showed exceptional courage and presence of mind in dealing with the crisis situation. Soon, Army personnel in bullet-proof vehicles got engaged in the operation to rescue people from the family quarters in the rear side of the base. Subsequently the army's special forces also joined the operation against the terrorists which continued for nearly 72 hours, when all of them were finally neutralized.
Hony Lt Madan Lal Choudhary is survived by his wife Charanjit Kaur and daughter Neha and son Ankush Choudhary.

Source: Honourpoint ( https://www.honourpoint.in/profile/hony-lt-madan-lal-choudary/ )