A school dropout from a poverty-stricken family in Tamil Nadu's Coimbatore is an unlikely social crusader tackling one of India's most menacing health crisis — menstrual hygiene. But Arunachalam Muruganantham is nothing less than an anomaly. While most men squirm at the mention of menstruation or sanitary napkins, Muruganantham just couldn't bear to see his wife use a dirty rag for her periods. And today, here he is, helping millions of Indian rural women afford low-cost sanitary napkins.
He believes that our country cannot be called 'developed' if we cannot make mothers of this nation healthy. 'By looking at Mumbai, Kolkata and Delhi, we cannot say our nation is developed. In many villages, there are no roads. One has to walk for two hours to reach the main road. Many nations want to adopt shortcuts – build six lane roads, metro rails, mono rails, but it's of no use when the mothers are unhealthy,' the Padma Shri awardee had told NDTV. 'We want to create 1 million dignified rural employments for women and want to convert India into a 100 per cent sanitary-napkin-using country,' he had further added.
Devoting 20 years of your life for a mission like this is no easy task. But in his TED talk from 2012 titled How I Started A Sanitary Revolution, it is not difficult to notice Murugananthan's go-getter attitude. He does not hesitate in the slightest to accept that his journey towards making the world's first low-cost sanitary pad making machine got rolling only because of the whims of a newly married man to impress his wife, of course.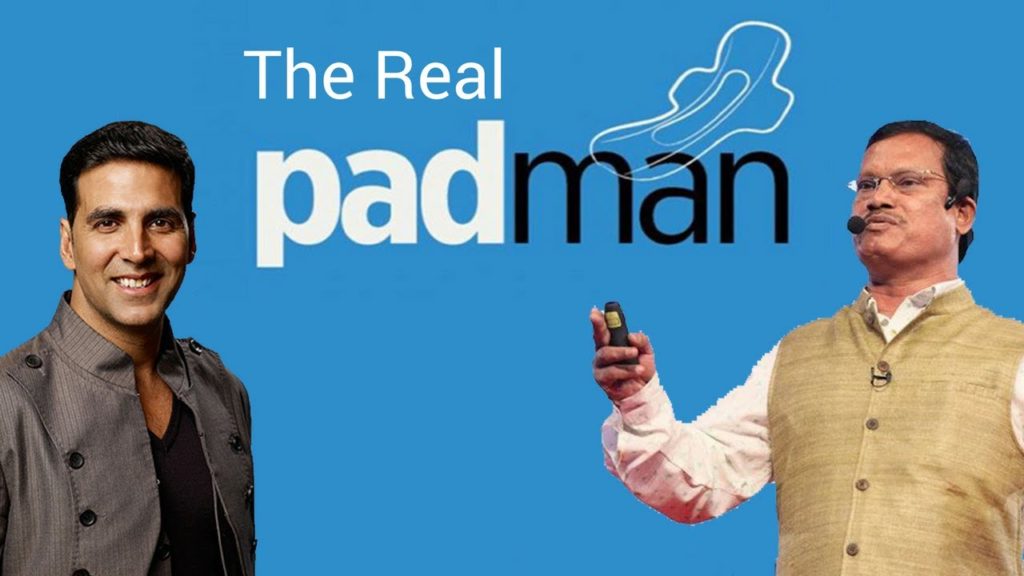 He goes on to tell that how he found his wife hiding a dirty rag cloth that Murugananthan wouldn't even use to clean his scooter. And how his pestering curiousity was handed the retort, "It's none of your business!," almost like a slap on his face. He soon realised that the dirty rag is his wife's substitute for a sanitary napkin and how his income doesn't permit his family to afford sanitary napkins for the women of the house. He also shared how at the age of 29, he touched a sanitary pad for the first time and started researching if the product is really worth the money the foreign companies are charging from the people. The results of his research are well known to us now.
Arunachalam Muruganantham is well known for his low cost sanitary pad making machine and for creating awareness about the unhygienic practices around menstruation. Now, he runs a company in Coimbatore in the southern state of Tamil Nadu, supplying women with sanitary pads in 4,500 villages and providing technology for his low cost hygiene products to 19 other countries. Under the aegis of his organization Jayashree industries, there are 4500 sanitary pad making factories operating nationwide.
He also remarks how he had the opportunity to sell his invention off to the industry bigwigs for billions of money. But instead, he chose to sell his machine only to underprivileged women of rural India, providing village after village not only a low-cost sanitary pad manufacturing set-up but a consistent source of livelihood for its women.
While signing off, he shares how he believes that people are of three kinds — uneducated, little educated and surplus educated and says , "If a little educated man has done this, what will the surplus educated men do for the society?"
He was named one of Time's 100 Most Influential People in 2014, tagged as India's "menstruation man," inspired a documentary and emerged as one of the most sought-after speakers at the world's premiere Business schools. His story has now also been etched in the halls of fiction by popular faces of the creative world — first in Twinkle Khanna's book The Legend of Lakshmi Prasad and on February 9 with the release of Akshay Kumar's film PadMan.
Courtesy : https://www.ndtv.com/education/success-story-of-the-real-padman-from-a-school-dropout-to-a-social-entrepreneur-1791399
http://indianexpress.com/article/entertainment/bollywood/real-pad-man-arunachalam-muruganantham-akshay-kumar-5059709/