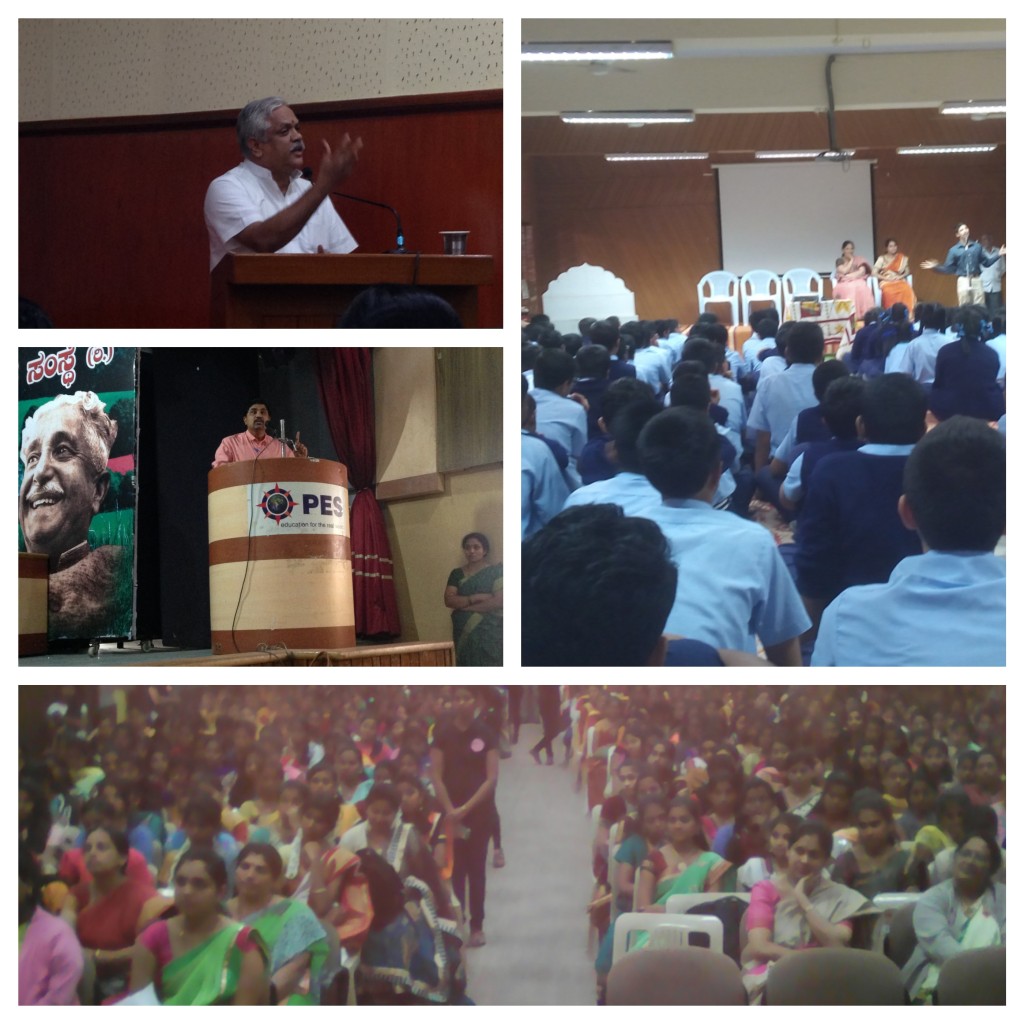 Disha is a non-profit social initiative (started in 2005) that aims to provide holistic education through imparting values. Disha endeavors to guide and catalyse young minds to carry forward the rich and glorious legacy of our motherland. Disha conducts Personality Development Programs for students by boosting the physical, emotional, intellectual, social and spiritual quotients through One day workshop which focus on KNOW YOURSELF, KNOW YOUR COUNTRY and KNOW YOUR CULTURE..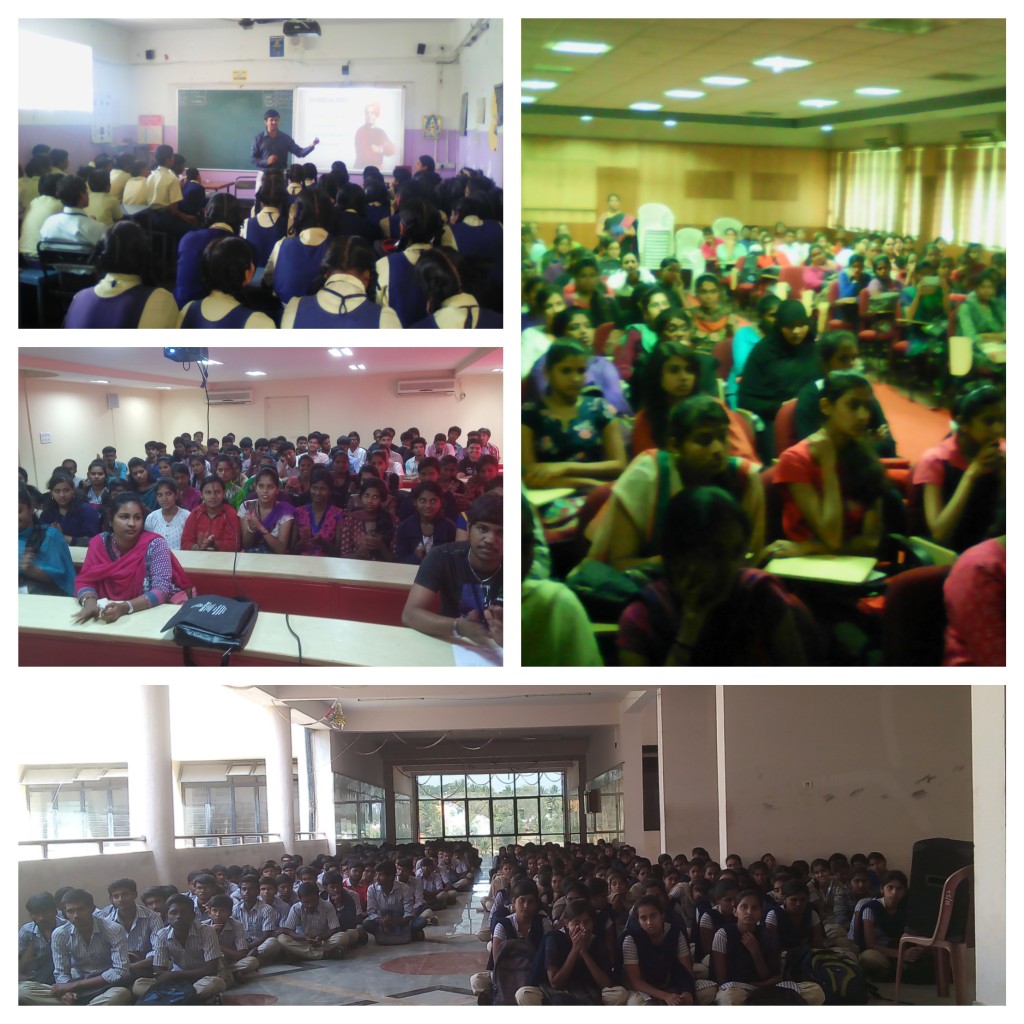 Disha is celebrating Vivekananda Jayanthi Celebrations since 8 years with an intention of spreading the message of Swami Vivekananda to the youth of this country. This year DISHA celebrated in a unique way by reaching out to institutions to conduct one-hour session on "Transforming Indians to Transform India". The session included a talk on the Life and message of Swami Vivekananda as a patriotic monk for half an hour and the second half dedicated for a video interaction which focused on the session title. The drive home message from the program was very simple but profound i.e "Be good and Do good".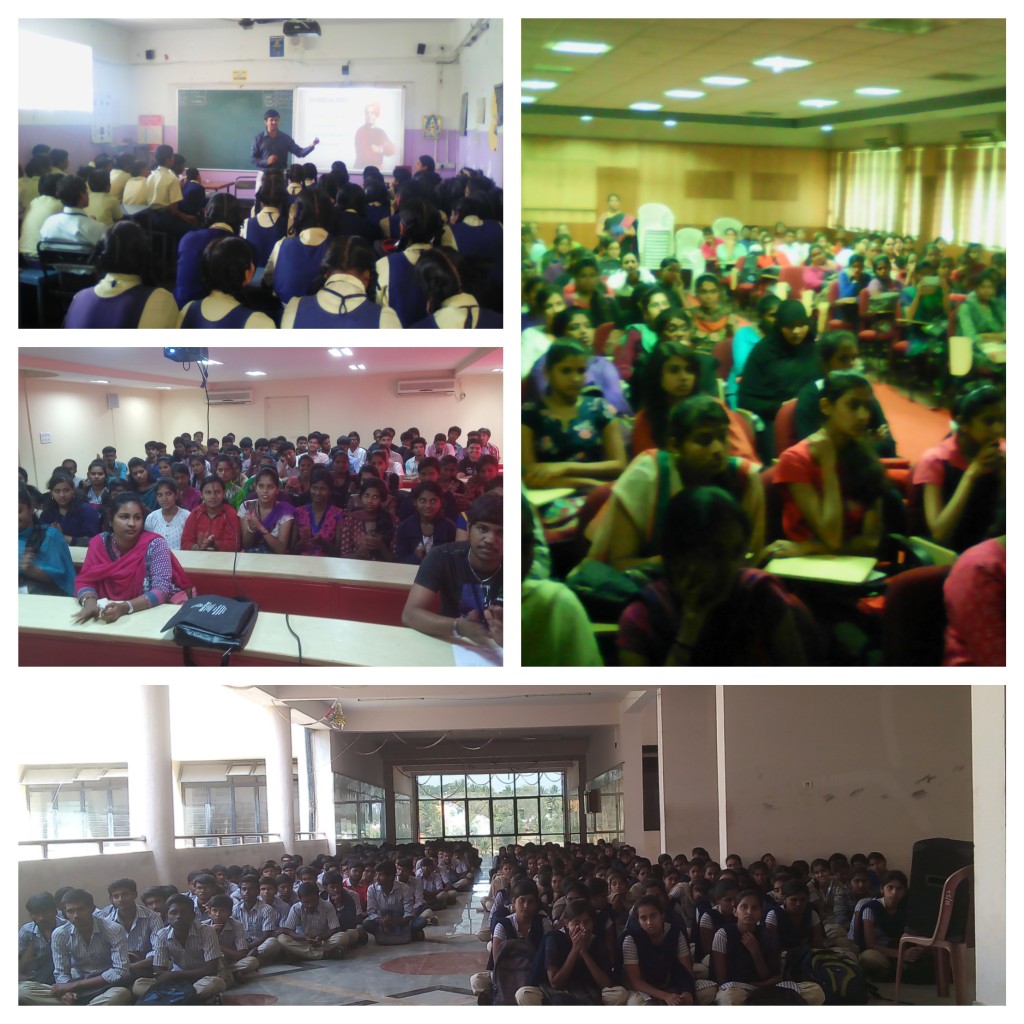 Disha conducted 50 programs in 40 institutions reaching out to 8,000 students with the message of Swami Vivekananda. The institutions included 8 high schools, 2 polytechnic, 5 pre-university, 2 pharmacy, 1 engineering and 22 degree colleges in Bangalore, Ramanagara and 2 villages. The institutions ranged from the top colleges of the city to medium colleges to government colleges. The management felt that the programme was unique both in the approach and the message. Looking at the feedback from the students, the management is keen to have many more programmes from DISHA.The programme was well received by the students and their response proved that they will take the message forward to make this nation 'Vishwaguru'.
The details of the places where we had program are as follows :-
Institution

Date

Time

No of Programs

No. of Students

Mahila Mandali High School

4/1/2016

1:45 – 2:45

1

150

Holy Child High School

7/1/2016
8/1/2016
19/1/2016

11:00 – 12:30
2.45 – 3.30

5

300

MLA CW

8/1/2016

2:00 – 5:00

2

60

Krishna Iyer PU College

7/1/2016

2:00 – 3:30

1

50

Abalashrama

10/1/2016

10:30 – 12:00

1

50

Sri Krishna Degree College

10/1/2016

3:30 – 5:30

1

50

Vidya Vardhaka Degree College

11/1/2016

11:00 – 12:00

1

200

VVS PU College

11/1/2016

12:00 – 1:00

1

150

Basaveshwara High School

11/1/2016

1:45 – 3:15

1

70

MES Institute of Mgmt

12/1/2016

10:00 – 11:30

1

400

Sri Sai College for Women

12/1/2016

11:30 – 12:30

1

520

Govt Degree College, Malleswaram

12/1/2016

12:30 – 1:30

1

80

Sardar Patel High School

12/1/2016

2:00 – 3:30

1

200

PES College of Pharmacy

13/1/2016

10:00 – 1:00

2

400

PES Degree College

13/1/2016

11:30 – 1:00

1

150

SJRCW

12/1/2016

10:30 – 12:30

1

550

MLA AHL

13/1/2016

11:15 – 12:30

1

300

Gupta College

13/1/2016

1:30 – 2:30

1

80

SRN Adarsh Degree College

14/1/2016

11:00 – 12:15

1

100

VVN PU College

14/1/2016

10:30 – 11:30

1

250

KLE Degree College

14/1/2016

1:00 – 2:00

1

150

Mookambika High School

14/1/2016

1:00 – 2:00

1

75

BMS Degree College

14/1/2016

2:00 – 3:00

1

200

APS Arts and Science College

14/1/2016

2:00 – 3:00

1

125

MSR Drgree College

18/1/2016

11:15 – 1:20

1

200

Govt College, Yediyur

18/1/2016

11:00 – 12:00

1

100

Vijaya College

18/1/2016

12:30 – 1:30

1

280

Govt Polytechnic College Ramanagara

18/1/2016

11:45 – 1:00

1

375

Bharateeya Samskritika Vidyapeetha, Ramanagara

18/1/2016

1:40 – 2:30

1

55

Morarji Desai Residential School, Ramanagar

18/1/2016

3:40 – 4:30

1

175

Govt Residential School, Ramanagar

18/1/2016

5:00 – 6:30

1

250

VVN Degree College

18/1/2016

2:00 – 3:00

1

270

PESIT

19/1/2016

11:00 – 12:30

1

100

Govt Degree College, Rajajinagar

19/1/2016

12:30 – 2:00

1

125

Bharatmata College

19/1/2016

2:00 – 3:15

1

175

Dayananda Sagar College

20/1/2016

10:00 – 11:00

1

150

MLA CW

20/1/2016

9:30 – 11:00
11:00 – 12:30
1:00 – 2:30

3

500

Vivekananda College of Pharmacy

20/1/2016

2:00 – 3:30

1

150

Kanaka Degree College

21/1/2016

12:00 – 1:00

1

100

BIPS High School

25/1/2016

 1:30 – 3:30

3

150

TOTAL

 
 

50

7,800