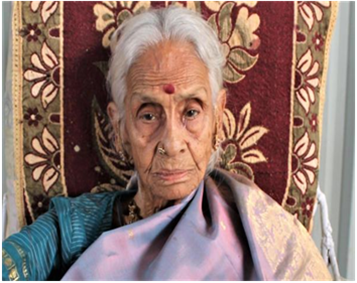 At an age when most people try to give up on life, Smt.Rukminidevi  aged 93, from Bangalore used her savings to build a home for the elderly at Yelahanka, Bangalore. Later she purchased a 3 acre plot in  Suddekunte village, Madhugiri taluk of Tumkur district and created a safe space for the aged called "Atmanjali" through the Maa Charitable Trust.
Prior to this initiative Smt Rukminidevi had take a house on rent in Yelahanka, Bangalore where she set up a small unit to make areca nut plates and provided employment to 10 underprivileged women. As there is heavy demand for such plates, she has no difficulty in marketing the products. She has also  installed 4 machines to manufacture sanitary napkins and around 7000 napkins are produced every month. Here too all the machines are managed by women. She sells these napkins to hospitals, shops etc. She also trains women on personal hygiene and usage of napkins.
She did her graduation from Maharani Arts College, Bangalore and was employed with the Social Welfare Dept, Government of Karnataka in 1948 where she saw the problems faced by women. This motivated her to spend her time and savings in helping such women. As a matter of principle she does not accept any grant from the Government, individuals or associations. She is an avid reader of Kannada literature and also composes poems. Despite such a hectic schedule she also manages her home and family comprising of husband and four children.
She is extremely happy with her work and so are we to know about her. She is truly a super human being.