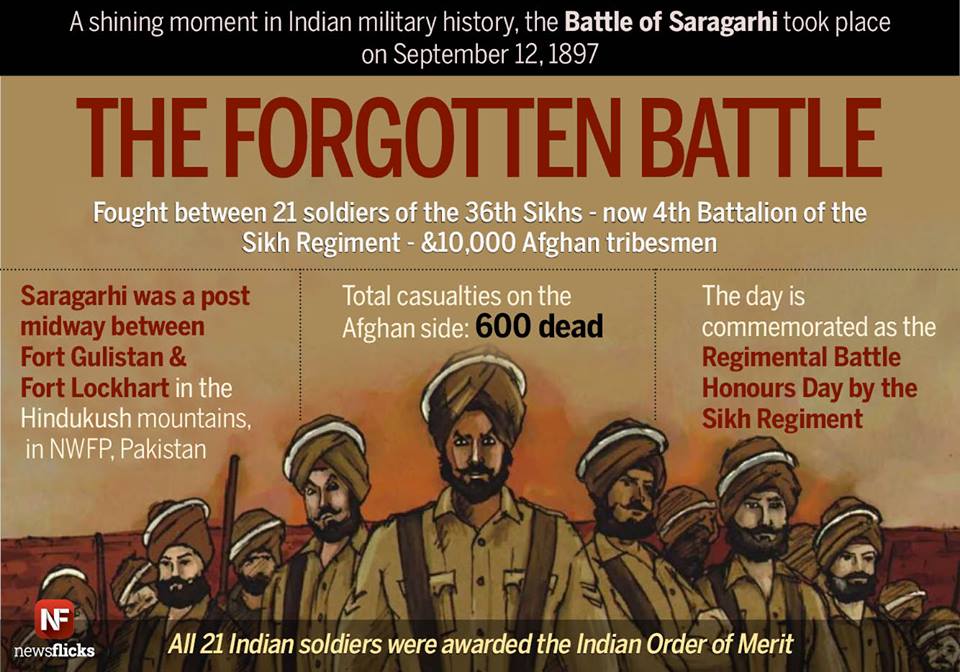 Battle of Saragarhi – the story of action, bravery, pride, valor, sacrifice and above all truth. This is the story of 21 Sikh men of the 36thSikh regiment of the British army.
On 12th September 1897, 21 Sikhsoldiers defended the saragarhi outpost in the hills of North –West frontier province against 10000 Afghan tribesmen. The province was ruled by the British, presently located in Pakistan. Afghan tribesmen wanted to capture the forts of Gulistan and Lockhart as these forts were not visible to each other, Saragarhi was created mid-way.
Afghans attacked this signaling post at Saragarhi, so that communication would be lost between the two forts. The Sikh soldiers decided to fight till the last breath under the leadership of Havildar Ishar Singh to prevent the enemy from reaching the force.Half of the Sikh soldiers died where Ishar Singh laid down some 20 men hand to hand before falling forever. But they didn't give up. Far from the post the British officers could see Afghans attacking Saragarhi.
Sepoy Gurumukh Singh sent the final message. At the age of 19 years, the last men stood, he said to have taken down 20 men before he was burnt alive by the enemy. It is reported that he was yelling the Sikh battle cry as the fire burnt him down "Bol So Niha! Sat Sri Akal!".
Nearly 600 Afghans were killed and faced destruction. In the mean time from 9am to 3pm of battle the 2 forts at Gulistan and Lockhart were prepared to face the attack and Afghans were defeated. TheBritish parliament halted their session mid-way to give a standing ovation to the martyred 21. Theywere awarded the "Indian order of Merit" the highest gallantry award of that time. The award is equivalent to today's ParamVir Chakra award bythe president of India.
Queen Victoria in the British parliament said, "It is no exaggeration to record that the armies which possess the valiant Sikhs cannot face defeat in war".
This death or glory tale is recorded in the collection of list of "8 stories of collective bravery in the history of mankind" assembled by UNESCO.
All units of Sikh regiment celebrate Saragarhi Day as the "Regimental Battle Honors Day".