Report – Train The Trainer Program on Values and Life Skills – May 26th, 2018
"We want that education by which character is formed, strength of mind is increased, the intellect is expanded and by which one can stand on one's own feet." – Swami Vivekananda
Viveka Vikasa organized a 1-day Train The Trainer Program on Values and Life Skills on May 26th, 2018(Saturday) in Abalashrama, Gandhi Bazaar, Bangalore. A very successful training program witnessed 49 participants from different walks of life, 3 regular volunteers, 9 student volunteers and 6 full-time coordinators of Disha and Viveka Vikasa.
May 26th, 2018(Saturday):  10.00AM – 5.30PM
The training program started with an "Inauguration", commenced with the lighting of the lamp by trainers and few participants followed by Dhyana.  The first session was an Ice Breaker, where participants got to know each other by forming groups randomly and then answering to posed questions about themselves among group members. The session was facilitated by Vinay (Disha and Viveka Vikasa Volunteer).
Group discussion session followed the Ice Breaker session. The participants were divided into 4 groups and gave topics such as "Positives and Negatives of the Society", "Positives and Negatives of Education System", "Positives and Negatives of high school students" and "Need for Value Education".  The session was facilitated by Pramodh N (Organizing Secretary of Disha).
The next session "Introducing Viveka Vikasa", which was facilitated by Pradeep(Viveka Vikasa coordinator) in which, the need for value education and Viveka Vikasa activities are explained to participants. The report of activities of Disha and Viveka Vikasa for the academic year 2017-18 was presented to participants by Madhusudhan(Viveka Vikasa Full-time Coordinator)
In Volunteers Experience Sharing session, Vanitha, Sheetal and Vinay regular volunteers of Viveka Vikasa shared their joyous and wonderful experiences with Disha – Viveka Vikasa. Their passion towards seva motivated them to do more and more volunteering, through which they enriched their life along with the positive transformation in students.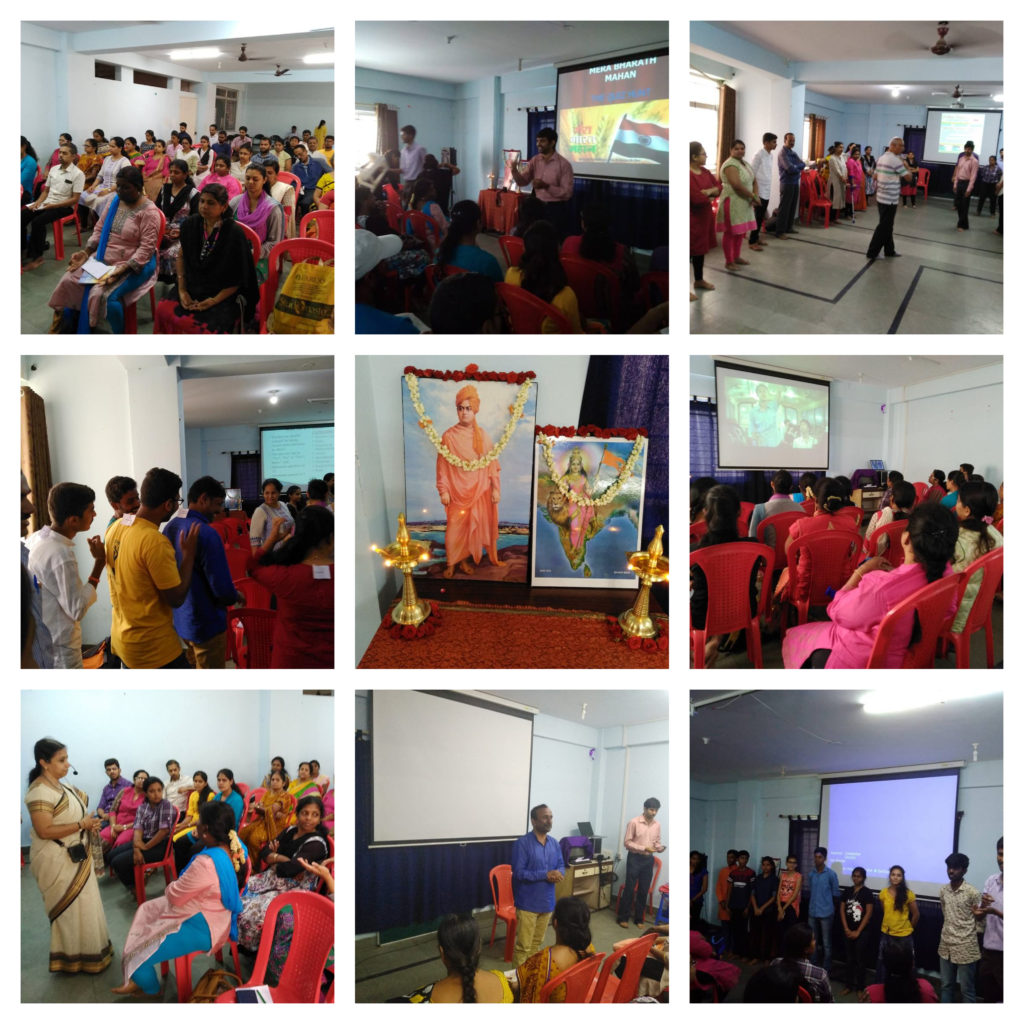 Mock Sessions was conducted in the morning to participants similar to how it is done for students. The following sessions were part of the half-day workshop
First session was an activity "Who am I?" – To know about famous Freedom Fighters, Scientists, Mathematicians, Politicians, Social Reformers, Saints, Poets, Sportsmen and Artists of India. The session was intended to inspire participants to achieve success similar to how the famous personalities achieved it by contributing to Society and Country.  This session was facilitated by Pramodh(Organizing Secretary of Disha).
Quiz session on the theme "Mera Bharath Mahan" – Motivational anecdotes along with the facts and information that makes us proud of our country and heritage there by instilling patriotism. This session was facilitated by Pradeep(Chief Coordinator of Viveka Vikasa).
Deshi Games – To introduce participants to sitting desi games with meaningful themes to keep participants mentally active. Tossing aside all shyness and inhibitions, everyone plunged into the spirit and the mood of the moment and thoroughly enjoyed the games. This session was handled by Supriya(Full-time Volunteer of Viveka Vikasa).
Social Responsibility through Audio Visuals – To instil the spirit of seva in day to day life and make it as a habit of our life. This session was facilitated by Parimala Murthy(Coordinator of Viveka Vikasa)
Session training was given to volunteers were taken based on their preference of one of the three sessions that were taken parallely. Here the participants gave a brief demo of whatever learnt and also obtained suggestions for improvement to their demo session. This session was facilitated by the coordinators of Disha and Viveka Vikasa.
The sessions taken were
Activities
Quiz
Inculcating values though Facilitation
In Students Experience Sharing session, students shared their transformations and learnings from the classes they had attended in the Value Classes. The transformation was evident in the seva and volunteering they had done in their free time.  The participants gave continuous ovations to appreciate the students for their selfless seva.
Volunteer mapping session had participants split into 4 groups such as Weekday, Weekend, Virtual and College Volunteering based on the preference chosen by participants based on their interest and the time commitment they can volunteer.
Volunteer mapping session was followed by Open House Session, where participants sought clarifications and answers for the various questions about the organization and the cause. This session was facilitated by the coordinators of Viveka Vikasa.
Final take home message was the motivational speech given by Thimmanna Bhat(Secretary of Rachana Foundation and a Teacher in Vibgyor School) on "Seva". The session focussed on the need for doing seva and mindset required for a Seva Karyakartha.
Finally few participants volunteered in the Feedback session and expressed their views, opinions and feedback about the training program. Most of the participants expressed that this was the life changing program and also vowed to volunteer with Disha and Viveka Vikasa in their free time.
Participants returned home with a big smile on their faces with sense of satisfaction of spending their day in a wonderful training program, which aimed at noble cause of transmission of core values to young generation.