Report of Volunteer Induction Program – 15th and 16th of June, 2019
Disha Charitable Trust for Value Initiatives organized a 2-Day Volunteer Induction Program from 15th June to 16th June, 2019 in Anatha Shishu Nivasa, Bull Temple Road, Bangalore. There was an overwhelming response from 68 participants from different parts of the state.
June 15th, 2019(Saturday):  9.30AM – 5.00PM
The training program started with a brief welcome followed by an "Icebreaker" session for participants to get to know each other well. The next session was a group discussion and presentation activity, where participants were divided into 5 groups in order to discuss on the 5 different topics to showcase the importance of values as a catalyst to solve many societal issues.
The next session, "Disha Introduction" followed by "Report of Disha programs for the academic year 2018-19" was presented by Smt.Sneha Damle (Joint Organizing Secreatery, Disha) and Sri.Pradeep.N (Fulltime coordinator, Disha) respectively. The sessions highlighted the need of Disha programs and different programs offered by Disha They showcased the number of beneficiaries from each of the programs and their positive impact on different stakeholders.
A "Mock Disha workshop" was conducted to participants similar to how it is done for students in a full-day Personality Development Workshop. The following sessions were part of the Mock Disha Workshop
Holistic Wellness through Yoga- Practice of Asanas ,Pranayama and Dhyana along with their benefits
Self Awareness through Counselling – To develop emotional and social quotient by managing emotions, overcoming distractions, developing positive attitude and goal setting
Walk with Pride through Quiz – To inculcate patriotism by showcasing the richness of great Indian culture and heritage
Values in Action through Audio visuals – To highlight the importance of values that can be put into action in life through interaction after audio visuals
Deshi Games – To introduce participants to Deshi games to enhancing leadership, interpersonal and team-building skills
Interactive session on Success – True perspective of life, success and personality development. Values as the foundation and integral part of life.
These sessions were taken by the full timers and counsellors of Disha. Feedback from participants were taken at the end of the Mock Disha Workshop.
The day ended with a first "Session Training" session by participants on the sessions covered in the Mock Disha Workshop. The participants were divided into 5 groups on the basis of sessions that they would wish to facilitate – Yoga, Counselling, Quiz, Audio Visual and Final take home message. The participants were given a complete overview of the session they would like to facilitate followed by mock practice sessions of 2-5 mins from each participant.  This session was facilitated by the full timers and coordinators of Disha.
June 16th, 2019(Sunday):  9.30AM – 5.00PM
The day started with a recap of previous day's sessions. First session of the day was a "Yoga" session facilitated by Sri. Pradeep.N which included few warm-ups, yoga dance, pranayama and simple dhyana.
An enrichment session was facilitated by Pramodh.N (Organizing Secretary, Disha)  on "Tejomaya Bharata" to showcase the contributions of Bharath in various fields, India's footprint abroad and the core cultural values of Bharat. Loud, vibrant and spirited "Bharat Mata Ki – Jai" slogan echoed at the end of the session kindling the spirit of patriotism in participants.
The second "Session Training" session – as the previous day
This was followed by a "Demonstration" session by participants where few prepared participants took an initiative to facilitate a session that they took practice in practice sessions in front of all participants.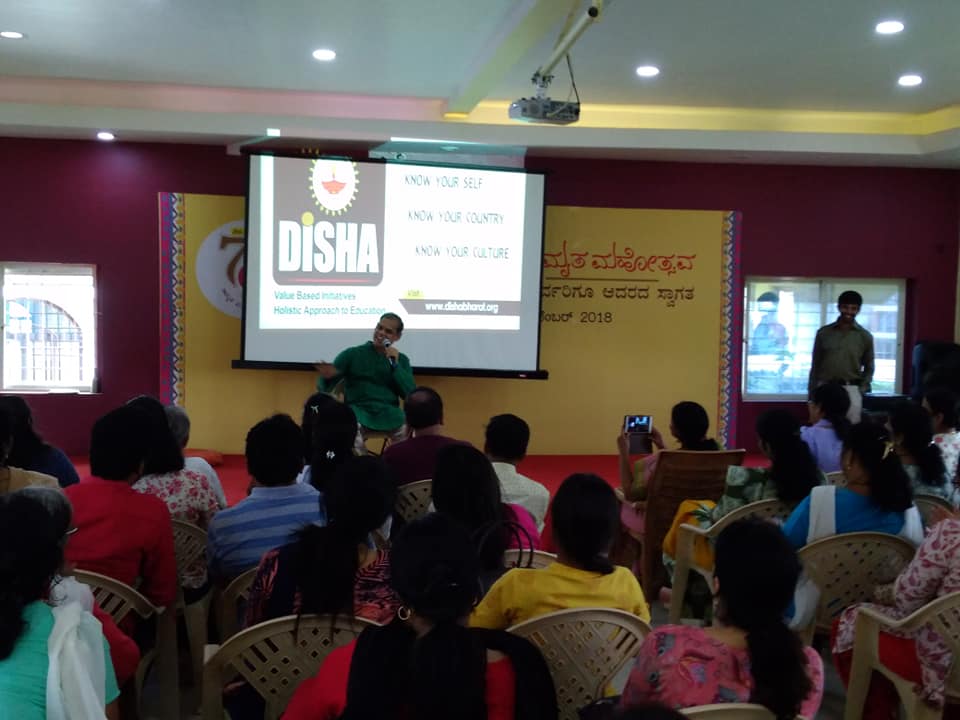 Post lunch, Dr.Mahadevan (Dean of IIM, Bangalore and guiding council member of Disha) gave a thought proving talk on "Seva – Backbone of Indian thought process". The session was filled with the knowledge of scriptures and his experiences and made a indelible mark in the minds of participants.
An "Enrichment" session to showcase the importance of values and skills was conducted that consisted of 3 different activities
Importance of Creativity for Trainers
Importance of TIME for volunteering
Interpersonal Skills
Participants showcased exceptional involvement and shared their learning in all activities.
Smt Parimala Murthy (Program Director of Viveka Vikasa) and Smt. Sneha Damle facilitated  the "Volunteer Mapping" session to present future volunteering opportunities  of the Viveka Vikasa and Disha respectively.
An open house session was conducted, where participants got answers for their questions/doubts  on Disha and Viveka Vikasa from Smt. Rekha, Sri. Pramodh and Smt. Parimala.
Final session, Valedictory started with the talk from Smt. Rekha Ramachandran (Secretary, Disha), where she gave a rousing call for volunteers through anecdotes to utilize their time effectively to use Disha as a platform for nation transformation through positive development of the self. Finally verbal and written feedback from participants were taken to express their views, opinions and feedback of the 2-day induction program. Most of the participants told that this was one of the best programs they had attended.
Participants returned home with a big smile on their faces with sense of satisfaction of spending their two days in a wonderful life transforming program, which aimed at noble cause of transmitting core values to young generation.