Swami Vivekananda Jayanthi
Swami Vivekananda is one of the greatest visionaries of the world and a great youth icon. As DISHA programs are targeted towards youth development, Swami Vivekananda's birthday(National Youth Day) is being celebrated by Disha since 2008.
Every year, Disha conducts inter-collegiate events for  college students and lecturers on different topics.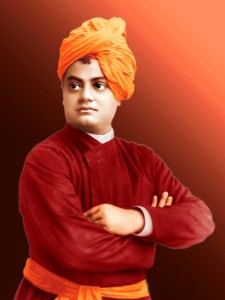 Swami Vivekananda Jayanthi – Year after Year

Swami Vivekananda Jayanthi 2013 – "Celebrating 150th Birth Anniversary of Swamiji"

Topic – "Student Social Responsibility – Ideals of Swami Vivekananda"
Report – Over 2,200 students participated from 14 institutions . Culmination Program by Sri.Chakravarthy Sulibele

Swami Vivekananda Jayanthi 2014 
Swami Vivekananda Jayanthi 2015 
Swami Vivekananda Jayanthi 2016

"Transforming Indians to Transform India" – Over 8,000 students participated from 40 institutions. Culmination Program by Sri.Tejasvi Surya


Swami Vivekananda Jayanthi 2017

"Vivekananda's Vision – My Mission" – Over 19,000 students participated from 97 institutions. Culmination Program by Dr.Balasubramanyam, SVYM.

Swami Vivekananda Jayanthi 2018

"Manifesting Vivekananda in YOUth" – Over 17,000 students participated from 93 institutions


Swami Vivekananda Jayanthi 2019

"Vivekananda's Rousing Call to the YOUth" – Over 37,000 students from 200 institutions participated. Culmination Program by Dr.V.B.Arathi


Swami Vivekananda Jayanthi 2020